MALDIVES SURF COACHING TRIP RECAP – AUGUST 2019
Maldives Surf Coaching Trip Recap
17-24th August 2019
4 English, 2 Scots, a German and an Australian boarded a boat… No this isn't the beginning of a joke but the start of last month's Maldives Surf Coaching Trip!
What a trip. We had an awesome mix of solo surfers and one couple on this trip. New guests, returning guests, some very experienced, some not so much, guys, girls, goofy footers and regulars… It was amazing to see everyone getting on really well right off the bat. Some were repeat customers but most came as strangers and left as friends. I've never seen a group of surfers progress so much in just 7 days and being part of it was incredibly rewarding. Everyone left stoked and inspired to keep progressing. This is why we do it!
If you're interested in joining a Maldives Surf Coaching Trip, check our schedule, find answers to common questions, or simply get in touch.
Since my first trip to the Maldives, I knew there was no better place to run surf coaching trips. The waves here are some of the most consistent and user friendly in the world. So much so, I'd bet 90% of surfers can find their perfect wave here. Such a dreamy destination deserves the best trip execution and the challenge of improving trip after trip is what makes this job so fun and rewarding!
Whilst the majority of the trip was based in super playful surf, we scored some solid waves at the beginning and end of the trip meaning everybody go their fix. We surfed 7 different spots during the week. Some rights and some lefts ranging from soft and forgiving to fast and powerful. This is the beauty of a Maldivian boat trip – wave variety and quality.
Check out this blog post if you want to learn more about the surf seasons in the Maldives and how they relate to the 3 main surfing regions…
Early arrivals and pumping waves…
A handful of the guests arrived in the Maldives a few days before the trip officially kicked off. This allowed them to warm up before the start of the week and spend a few extra days in paradise.
Meeting everybody at the airport, we arranged transfers and accommodation a stones throw from Cokes and Chickens – two of the best and most consistent waves in the Maldives. Everyone was keen to wash off the travel grime and get a few waves under their belts before the coaching course began.
Generally speaking, the waves in the Maldives aren't renowned for being big and heavy. Hence why we believe it's the best place on earth for intermediate surf coaching. However, as always, nature is full of anomalies. Upon arriving at Thulusdhoo we were greeted with solid double overhead groundswell unloading with some serious grunt onto the reefs. For those who wanted a piece of the action; epic waves were had, comfort levels were stretched and boards were snapped… All before the trip had even officially started!
All aboard!
Once on the boat and settled in, we got to work hunting down empty lineups. It's always slightly uncomfortable sailing away from guaranteed waves but it paid off as we found exactly what we were looking for. One right-hander in particular (which we won't name – sorry!) proved to be the highlight of the trip. A pointbreak style wave breaking soft on the outside before getting faster and steeper towards the inside. Something for everyone, long rides and very few other surfers in the area.
Arriving the day before the swell was predicted to pulse, everyone was frothing to get into some user friendly waves after the morning's cruise. It was also a good opportunity to suss out the lineup before the surf built.
There was a slight sense of disappointment the following morning when it was still only waist high on the sets. However, drawing on previous experience and knowledge, we made the call to stay put and wait for the pushing tide. Sure enough, a few hours later glassy head high walls were peeling 150m down the reef with nobody around. We surfed for 4 hours until dark. The wave count was through the roof, arms turned to noodles and Laurie captured some incredible drone footage. This gave us plenty to get our teeth into in the post-dinner video analysis.
Progression Sessions…
As the dedicated coach on this Maldives surf coaching trip, Boydie is able to put all of his energy into one goal: Make sure all of our guests receive the knowledge and tools they need to take their surfing to the next level. The video analysis sessions were invaluable. Actually being able to see what you're doing frame by frame makes a world of difference. Each night had a different topic and everyone went to bed frothing to practice new techniques the following morning.
As well as evening 'surf class', Boydie was always in the lineup giving one to one coaching whilst our dedicated cameraman, Laurie was behind the lens. This is something that makes our trips unique as you get real-time feedback after each wave which is a complete game changer. With your coach not stuck behind the lens, they can be in the water with you watching every wave and reminding you what to focus on. Everyone received loads of encouragement, constructive criticism, analysis, tips and advice. All the guests were really thinking about their surfing rather than just going through the motions, and it showed.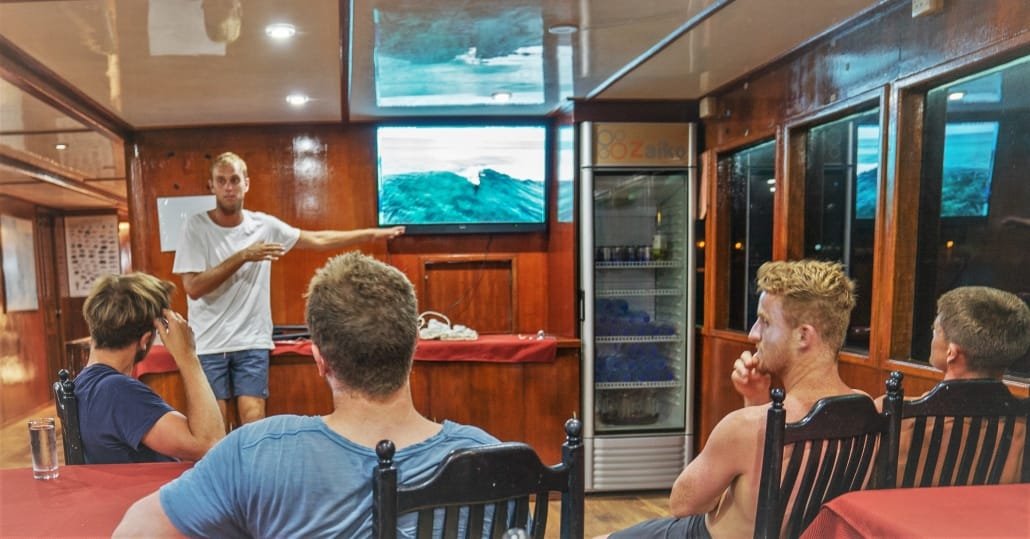 The Guests
The English contingent…
Michaela, a Doctor from England had probably the least surfing experience of the group and this was her first taste of surfing reef-breaks. Safe to say she loved it! The perfect fun-sized right hander we scored offered some of the longest rides of her life and loads of time on the wave. At the start of the trip she was taking off and trimming down the line but struggling to maintain pace with the wave and being knocked off by sections. By the end of the trip she was surfing with far more composure and effectively using compression and extension to make it around sections that would have beaten her before.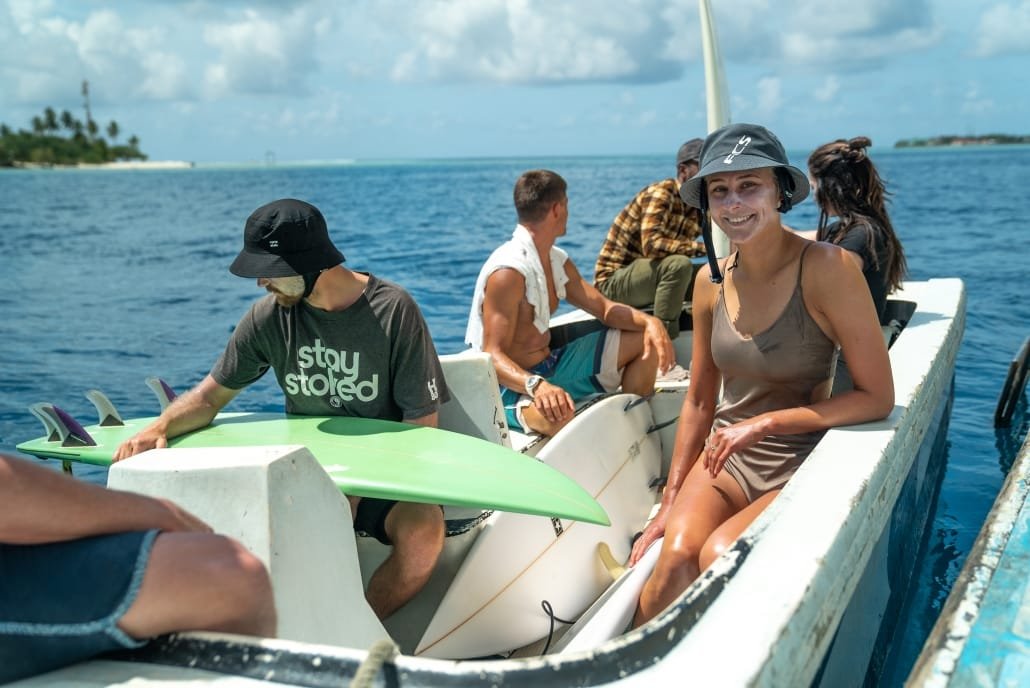 Bill, Michaela's partner and also a Doctor was a return guest from last season. Bill has been a good friend of mine for years and we've spent many hours surfing together back in the UK. A solid surfer with good flow, Bill was working on keeping his hands up to create projection down the line as well as adding more aggression to his turns and overall speed to his surfing. He achieved just that and was linking some lovely combos at overhead Sultans during the last few sessions of the trip.
Then we had David, a videographer living in Cornwall. David won 'wave of the trip' at our last night awards for a near 1 minute ride on a beautiful roping head high wall. I remember just getting to the lineup as David kicked out of this one and he was absolutely buzzing. Even more so when he found out it had been captured in a beautiful drone clip! One for the 'gram.
Last but not least was Sam (Cobra). Another return customer and good friend of mine, Cobra has to be one of the biggest frothers I've ever met and super keen to progress his surfing as quickly as possible. Cobra was constantly hitting up Boydie for more tips and soaking it all up like a sponge. Boydie was more than happy to indulge him and the two of them had countless conversations geeking out on the nitty-gritty of surf technique and body mechanics.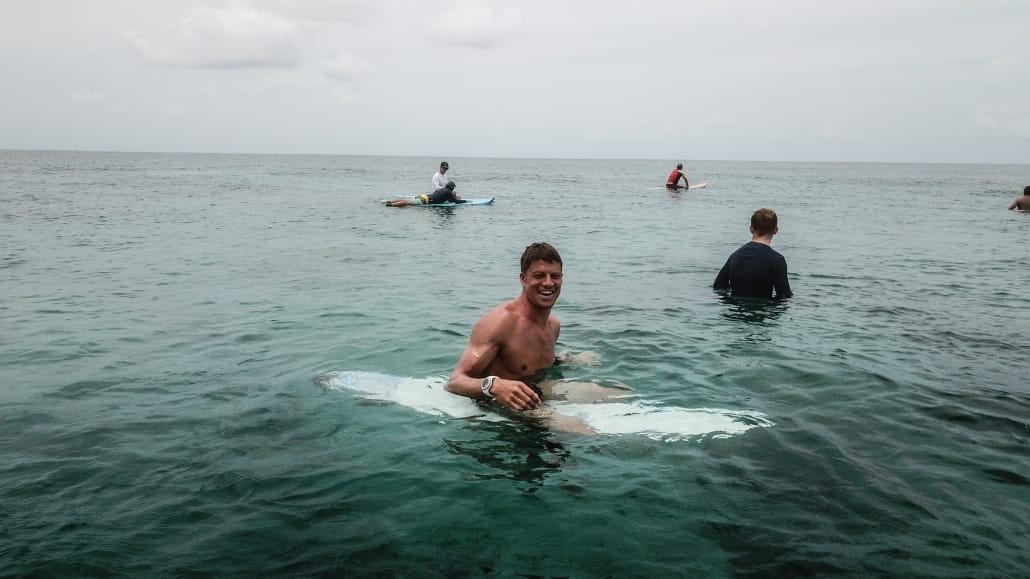 Representing Germany…
Lena, a Psychologist from Germany now lives in northern Spain to get her surfing fix. She was a little apprehensive about joining the trip as a solo female traveller but that apprehension quickly dissipated once she'd met all the other like-minded guests. At the start of the trip Lena was surfing confidently but often outrunning the wave and losing it. We spent the week working on cutting back to the whitewater to stay in the steep section of the wave. The cutback is a complex maneuver but critical for good surfing. By the end of the week Lena was really starting to rotate her body and subsequently her board. Towards the end of the trip she was coming all the way around and beginning to rebound off the whitewater. Incredible progress in just one week!
Our Aussie tube hunter…
Monty, a Lawyer from Australia now lives in Tokyo so doesn't surf as much as he would like any more. (Our trips are perfect for those in this situation as you can make marked progress in a short space of time.)
Monty was our resident tube hunter and was trying to sniff out barrels at every opportunity. (You can take the Aussie out of Australia…) Like Bill, out on the face Monty was working on adding more rotation and aggression to his cutbacks. With competent surfers like Monty who already have a good foundation, it's all about eliminating bad habits first and then tweaking the technique.
The Scots…
David (Frosties) grew up surfing with Boydie. He relished the opportunity to catch up with an old friend, all whilst improving his surfing and scoring perfect waves. Check our latest video featuring Frosties impressive progression!
Gordon (Goggz) won our award for 'most improved' of the trip. He was also in contention for 'best wipeout' after taking on a shallow left and getting too closely acquainted with the reef. He needed a few stitches from our resident doctors so it only made sense to give him a mohawk… Which he pulled off to the extent of us forgetting what he looked like before the restyle!
Being a goofy-foot, Goggz was surfing our dreamy right hander on his backhand. At first this proved tricky in the small conditions as Goggz was tending to look down on takeoff. This was causing him to drop straight down the wave, lose speed and be outrun by the section. (Where you look is where you'll go!) Just a few days later, Goggz was looking down the line, arms up, projecting around sections with speed to burn. The difference was night and day.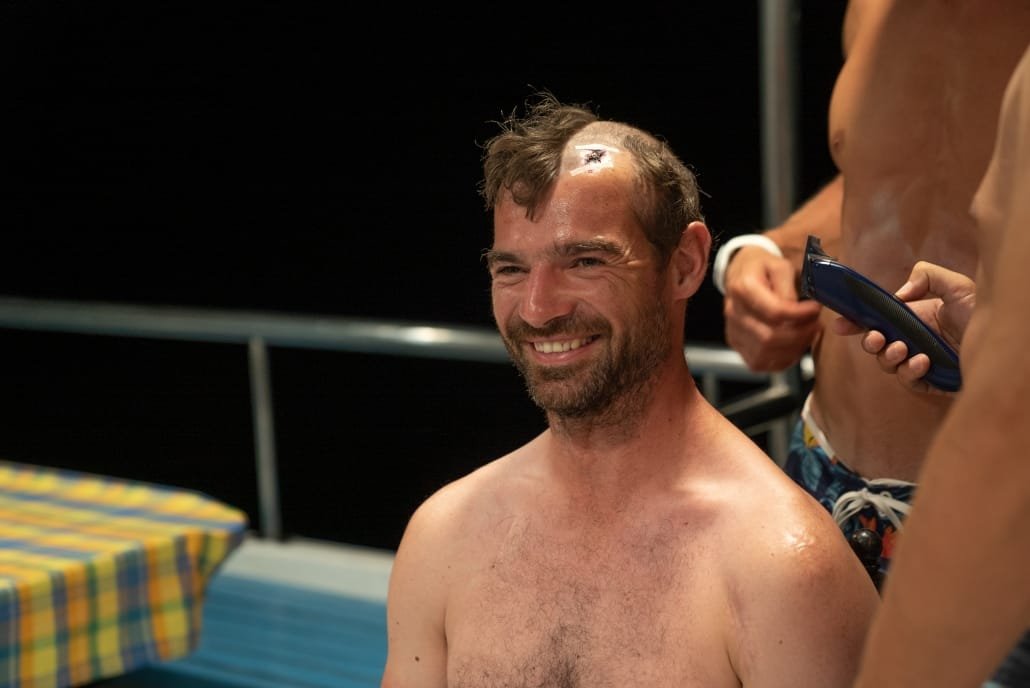 This trip was truly memorable and a pleasure to meet such great guests. We had epic waves for everyone, incredible food and an amazingly accommodating crew. Bring on 2020!
https://renegadesurftravel.com/wp-content/uploads/2019/09/DJI_0169-2.jpg
2184
3277
Renegade Surf Travel
https://renegadesurftravel.com/wp-content/uploads/2023/05/400dpiLogo-300x88.png
Renegade Surf Travel
2019-10-06 15:39:24
2022-04-28 12:07:17
MALDIVES SURF COACHING TRIP RECAP – AUGUST 2019