WHAT LEVEL SURFER AM I & WHICH TRIP IS BEST FOR ME?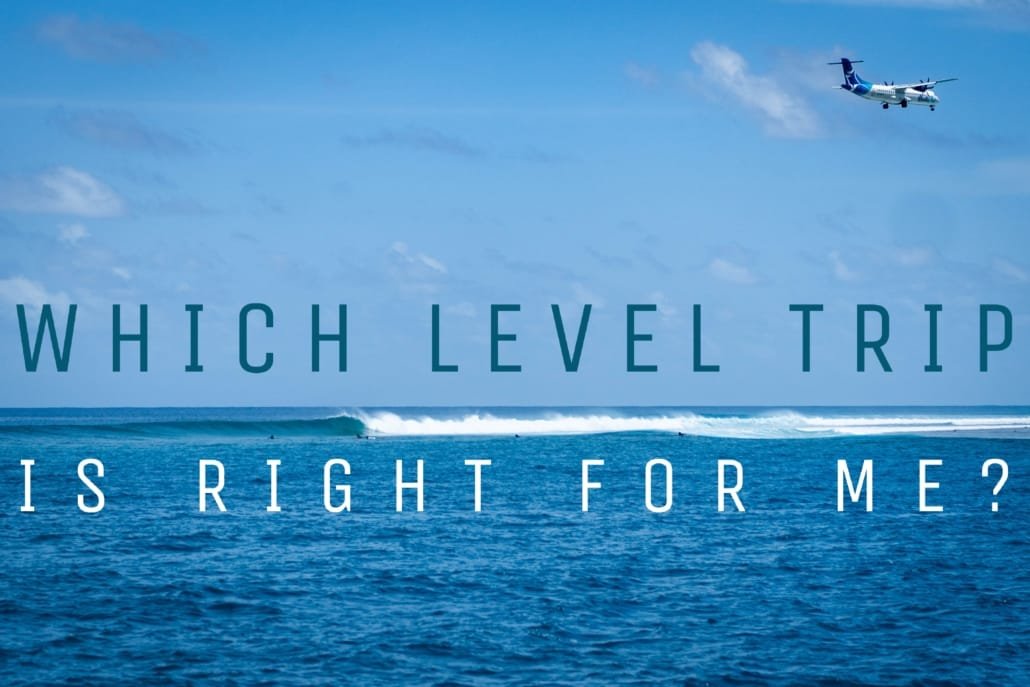 Unlike golf, tennis, or football, average surfers are not typically competing. This makes it incredibly difficult to put a metric on your surfing ability.
If you've ever seen a video of yourself surfing, you're probably acutely aware that how it felt, and how it looked can be worlds apart. The 'buckets of spray' you thought your turns were throwing were more like a light drizzle. Those well-overhead waves were in-fact shoulder high… We've all been there.
The terms intermediate surfer and advanced surfer are incredibly vague. For example, it's really common for a surfer to be 'advanced' in one area of their surfing, yet very 'intermediate' in another. You may have pulled off a semi-decent rebound off the whitewater one time, but does that really mean you have roundhouse cutbacks on lock?
This is something we have been grappling with since our inception. And something we have put a lot of thought and time into. We want all of our guests to feel comfortable on our trips, but feel they are in a safe environment to push themselves when the opportunity presents itself. We don't want anybody to feel completely out of their depth. Nor that they are stuck surfing waves below their pay-grade. With this in mind, we created our Path to Progression. We have also divided all of our coaching trips for 2024 into Level 2/3 or Level 3/4.
WHAT ARE THE DIFFERENCES BETWEEN LEVEL 2/3 AND 3/4 TRIPS?
Understandably, this is a question we get asked a lot. The most important thing to note is that the quality and thoroughness of the coaching is identical on both trips. You'll still be benefitting from in-water guidance, a filmed session each day, 1-1 AND group video analysis, and daily workshops on surfing.
The only differences are what we're learning and the types of waves we're looking for . For example, on level 2/3 trips, we will be covering everything from positioning, horizontal manoeuvres to surfboard design. Whilst on a level 3/4 trip we may cover topics such as manoeuvre choice, tube-riding and contest criteria.
As for the types of waves we will be looking for… On a level 2/3 trip we'll be searching for the most progression-friendly waves for you to link turns. Typically, this will be surf in the head high and under range. If a solid swell comes through we would usually opt for a more sheltered spot which offers these conditions.
On a 3/4 trip we'll simply be hunting the best waves that we can find on any given day. This doesn't always mean we will be surfing big or heavy waves. However, if a solid swell does come through, then we would be looking to score at some of the premier waves in the region and hope everyone on board is keen to give it a crack!
THERE WILL ALWAYS BE EXCEPTIONS…
A key thing to note is that even with the guidelines mentioned above, there will always be exceptions. For example, you may be a level 3/4 surfer who technically surfs well, but you're terrified of bigger surf. In this case, a level 2/3 trip might be better for you. On the other hand, if you're a level 2/3 surfer, but you grew up surfing heavy waves and are super comfortable in larger surf, then a level 3/4 trip might be more suitable.
Safety will always be our number one priority and we will always tell someone if we think the waves are above their current skill set. Equally, if we know somebody has the ability to push their limits and can level-up their surfing, then we will gently encourage this too.
I'M A LEVEL 3 SURFER… WHICH TRIP SHOULD I GO FOR?
This follows on nicely from the above point about the waves we'll be searching for. Ask yourself, if a roaring SE swell comes through and we rock up to a lineup that looks like the ones above or below, will you be absolutely frothing to get out there and push your limits? Or would you rather be surfing the sheltered reef pass around the corner?
Another key point to consider is the level of other surfers on board. If you're an early level 3 surfer, are you someone who would be intimidated at the thought of sharing the lineup with better surfers, or inspired and motivated? It's important to take ego out of the equation here. Go for the trip that will give you the most enjoyment and progression.
STILL WONDERING WHAT LEVEL SURFER YOU ARE?
Be sure to check out our 'What Level Surfer Am I' page on our website. Here you'll find video examples of each level and should be able to place yourself within one of them. If you're wondering when to surf The Maldives, check out our Maldives Surf Seasons blog post.
If you're still unsure, please get in touch using the form below and we'll be happy to help.
https://renegadesurftravel.com/wp-content/uploads/2023/09/LEVEL-HEADER-scaled.jpg
1707
2560
Renegade Surf Travel
https://renegadesurftravel.com/wp-content/uploads/2023/05/400dpiLogo-300x88.png
Renegade Surf Travel
2023-09-05 11:38:38
2023-09-05 11:38:38
WHAT LEVEL SURFER AM I & WHICH TRIP IS BEST FOR ME?