PRIVATE SURF COACHING – TRIP RECAP APRIL 2021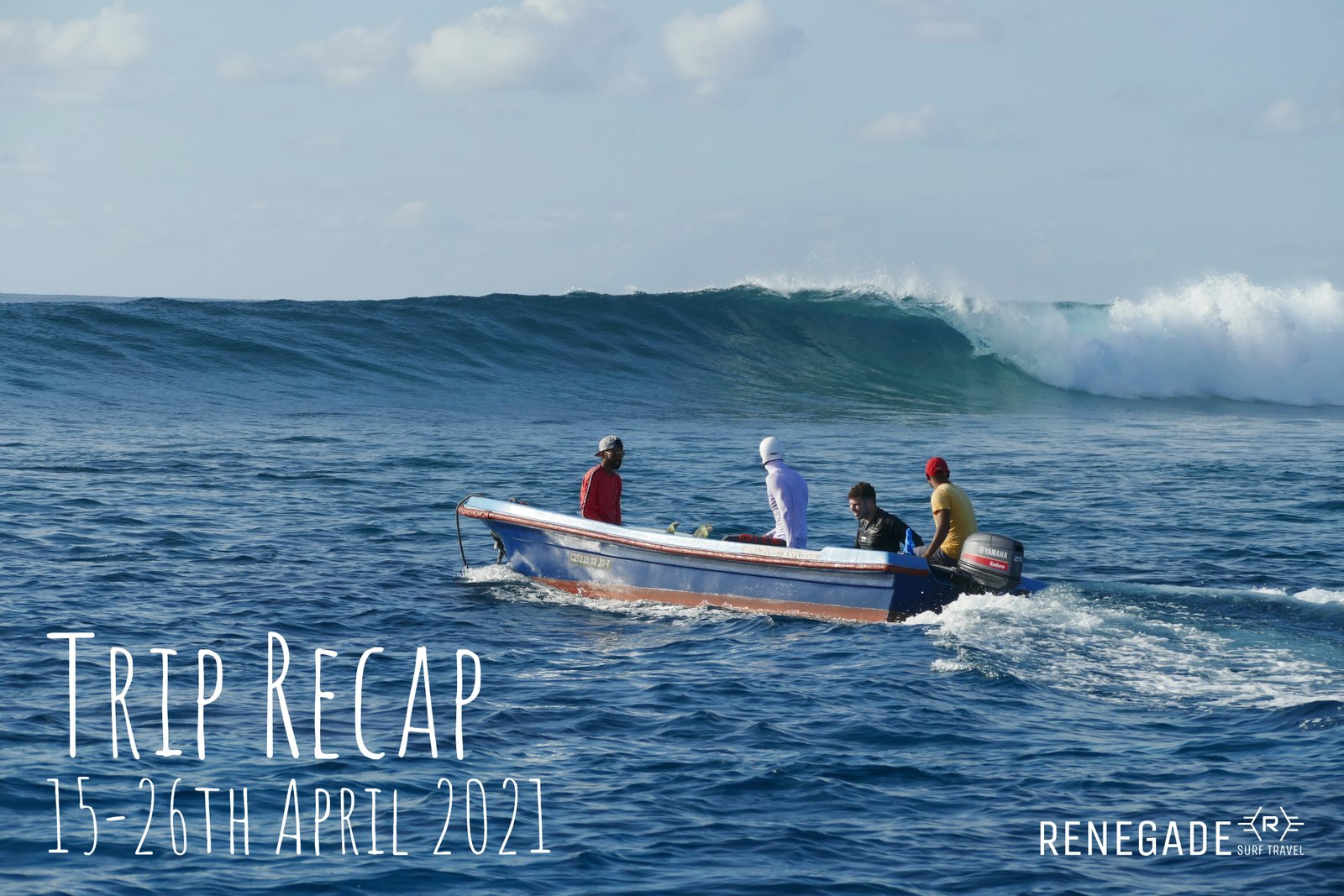 Private Surf Coaching
Trip Recap – 15-26th April 2021
It's been a strange and challenging 14 months. Having only run one trip during that period, we've missed sorely our guests and the amazing moments that put smiles on dials. So it goes without saying we were incredibly excited to get back to doing what we love and kick off 2021 with an epic private surf coaching trip!
Our scheduled coaching trips are and will always be our 'signature' trips. There's just something special about bringing different surfers together from all over the world in paradise with a common goal of progressing your surfing. That said, our private surf coaching trips offer the ultimate stoke-fest. Get a boat full of good friends or family, throw in pumping surf and elite-level coaching and you've got a recipe for a good time!
For our first trip of 2021 we had an epic crew of dads and sons, friends and family. A mostly Californian crew, with a sprinkle of Brazil and New York for good measure. There was a mix of abilities, all the way from 'surfing one year but hungry to progress' to 'grown up competing'. That's the fantastic thing about a private coaching trip… regardless of ability, everyone on board is rooting for each other to improve. It was incredible to see everyone in the group make marked improvements in just 10 days – though perfect empty lineups and daily coaching will do that for you.
Interested in a private surf coaching trip for you and your crew?…
If you're interested in booking a Private Surf Coaching Trip for you and your crew, simply get in touch via the form at the bottom of our Maldives Surf Coaching page.
The first time I visited the Maldives, it struck me that these were some of the most progression friendly waves I'd surfed. Warm water, plenty of power but not too much, lefts, rights, point style waves, short hollow waves, tubes, turns – you name it, it's here. So much so, I'd bet 90% of surfers can find their perfect wave here.
For this trip we were south-bound for the Central Atolls. Whilst the Malé Atolls offer consistency and convenience, those looking for empty lineups will find Shangri-La further south. It's a long cruise but so worth it when you're surfing pumping waves by yourself. Throughout the trip we scored a range of conditions, from playful peelers to pumping point-style waves with long walls and barrel sections. We scored fun waves every single day and after 11 days everyone was feeling pretty sore and thoroughly surfed out.
Check out this blog post if you want to learn more about the surf seasons in the Maldives and how they relate to the 3 main surfing regions...
Warm-up sessions…
After a few COVID related hurdles were navigated, we headed jumped in at a consistent left called Chickens to wash off the jetlag before setting sail for the Central Atolls. A couple of fun sessions later and everyone was feeling primed and ready to set their sights on emptier horizons. We pulled anchor and headed south to our first stop…
For 3 days we parked up next to a couple of super fun but very different righthanders. One, a fast down-the-line wave breaking inside the bay of a picturesque tropical backdrop. The other, a softer, mellow right breaking on the corner of an exposed reef. This made for the perfect first stop, allowing the crew to split up and surf different waves depending on conditions / tide / mood. The wave count went through the roof in the mostly empty lineups and despite being only a few days into the trip, everyone was already showing signs of improvement.
Eyes on the prize…
After 3 days of fun waves, the swell SE swell started to die. However, anticipation was bubbling as we could see a  perfect long period SW swell filling in on the forecast. It's always a tough decision to sail away from fun waves. However, sure bets aren't the Renegade way, so we pulled anchor and headed for a lesser known corner…
On arrival we were met with a slightly disappointing sight. Empty, yes. Pumping, no. However, the swell wasn't forecast to fill in until later that day so we dropped anchor and waited. A few of the crew were keen to surf after the long cruise so headed out despite the tiny swell. Fortunately, as hoped, the disappointment didn't last… It wasn't long until there were hoots from the lineup as the frontrunners of an 18 second groundswell started to show. We were the only boat around and surfed alone for hours until the locals joined us before sunset. It was one of the those 'pinch yourself' sessions with perfect waves going unridden whilst we sat and waited for the best ones.
The 200m+ walls gave load of opportunity to put theory into practice and plenty of evening viewing!
Progression Sessions…
As the dedicated coach, Mark was able to put all of his energy into one goal: Make sure all of our guests receive the knowledge and tools they need to take their surfing to the next level. Coupled with the ability to analyse frame by frame, this gave our guests a new level of understanding. Having a dedicated coach and filmer makes Renegade coaching trips unique. Your coach can be in the lineup giving you real time feedback instead of stood behind a camera. All of the group were starting to think about their surfing, not just going through the motions, and it showed.
Meet the guests…
Paul, a plastic surgeon from California was the orchestrator of the trip. He and his son, Alec, definitely led the charge for the most hours in the water!
Whilst Alec has grown up surfing most of his life and competed through school, Paul took to surfing later on. However, he clearly possesses the eagerness to learn and improve. In a sport where moments are so fleeting, it was epic to see them both trying new things without fear of failing. Adapt the mindset that no wave is too precious and your surfing will thank you.
Paul's nephew and Alec's cousin, Sam joined the trip as our least experienced surfer. However, he won our 'most improved' award of the trip! Sam has only been surfing for a year and was understandably nervous about surfing reef breaks for the first time. To see him come from nervously clambering to his feet and jumping off every time the wave got a bit steep, to confidently paddling out in some of the biggest waves of the trip and even starting to do cutbacks within just 10 days was super rewarding.
Marcos, our Brazilian surfer, met Paul on a trip to the Telos a few year back. So when Paul was looking for friends to join this trip he dropped Marcos a line and he was down! Despite coming from different countries, all of the group transferred in Doha and arrived in the Maldives together – pretty epic.
With mostly rights on this trip, Marcos' focus was on maintaining and generating speed on his backhand. Boydie had him visualising 'serving the pizza' – opening the palm of your leading arm, in turn opening your chest and bringing you up the wave. By the end of the trip Marcos was coming off the top and redirecting down the wave with a lot more speed which made a huge difference to his surfing.
John (a good friend of Paul's) and his son Ian, also joined the trip as a father/son duo from California. John is a chiropractor and an outdoors enthusiast, but hadn't surfed much in years. The punchy Maldivian reef breaks proved challenging at first as it was very much 'in at the deep end'. However, it was epic to see John pushing himself in some of the more challenging waves of the trip. Despite some missed waves and spectacular wipeouts early on, John was confidently catching waves and looking comfortable on the face later in trip.
Meanwhile, Ian won our award for 'combo of the trip'. Whilst clearly a very capable surfer, Ian's stance was a bit too far up his board. This is a super common mistake for intermediate and even advanced surfers but can make a huge difference when addressed. Once Ian was finding the back of his traction pad, he instantly looked like a different surfer. From there, it was just about dialing up the commitment of his turns from 50% to 100%.
Rounding out the young guy contingent was Alec's good friend, Julian. Julian was struggling to break his beach-break ingrained habit of constantly pumping down the line looking for a section. Again, Julian was a capable surfer but just needed a mindset shift once up and riding. One of my favourite teaching moments of the trip was seeing the penny drop with Julian that each maneuver you choose should serve a purpose. Turns aren't just 'tricks', they allow you to keep pace with the wave by keeping you in the critical section. With this in mind and long, peeling walls ahead, Julian went from surfing mid-face with a lot of 'flapping' to surfing top-to-bottom on rail.
Last but not least was Joe, our resident dermatologist keeping everyone very aware of the dangers of the Maldivian sun! Towards the start of the trip, Joe's biggest hurdle was wave selection. For those of us who grew up surfing busy beachbreaks, it's hard to break the habit of going for everything. However, in empty lineups with long roping waves, you can afford to be a little more picky. Once Joe started picking off the runners it was time to get to work on the cutback! Joe already had the fundamentals, he just needed to be more assertive and hold the board on rail until connecting with the whitewater. This was something nearly everyone on the trip was working on in some capacity. Whether it was Sam cutting back for the first time or Alec taking his roundhouse from functional to radical.
This private surf coaching trip was truly memorable and it was a pleasure to host such an epic crew. We had pumping waves, empty lineups and plenty of good times. Bring on the rest of the season!
To keep up to date with our trip schedules or to organise your own trip, join our mailing list and follow us on Instagram.
https://renegadesurftravel.com/wp-content/uploads/2021/05/P1050438.jpg
2725
4088
Renegade Surf Travel
https://renegadesurftravel.com/wp-content/uploads/2023/05/400dpiLogo-300x88.png
Renegade Surf Travel
2021-05-21 12:25:18
2022-04-28 12:09:53
PRIVATE SURF COACHING – TRIP RECAP APRIL 2021